News
IAHS News
IAHS 2022 Scientific Assembly in Montpellier, France
The XIth IAHS Scientific Assembly was held in Montpellier, France from 29th May to 3rd June 2022 with a very rich scientific programme.
The Scientific Assembly was the opportunity to celebrate the 100-year anniversary of the association, to look forward to the end of the Panta Rhei decade which will close in 2023, to envisage progress on the 23 UPHs - Unsolved Problems in Hydrology, and to screen developments of Open Science and support to Agenda 2030 in water-related fields.
There were 600 attendees from 65 countries at this in-person meeting locally organized by a team of scientists from diverse institutions federated by the UNESCO Cat2 Centre ICIREWARD. Covid travel restrictions continued to cause problems for some attendees with about 80 cancellations.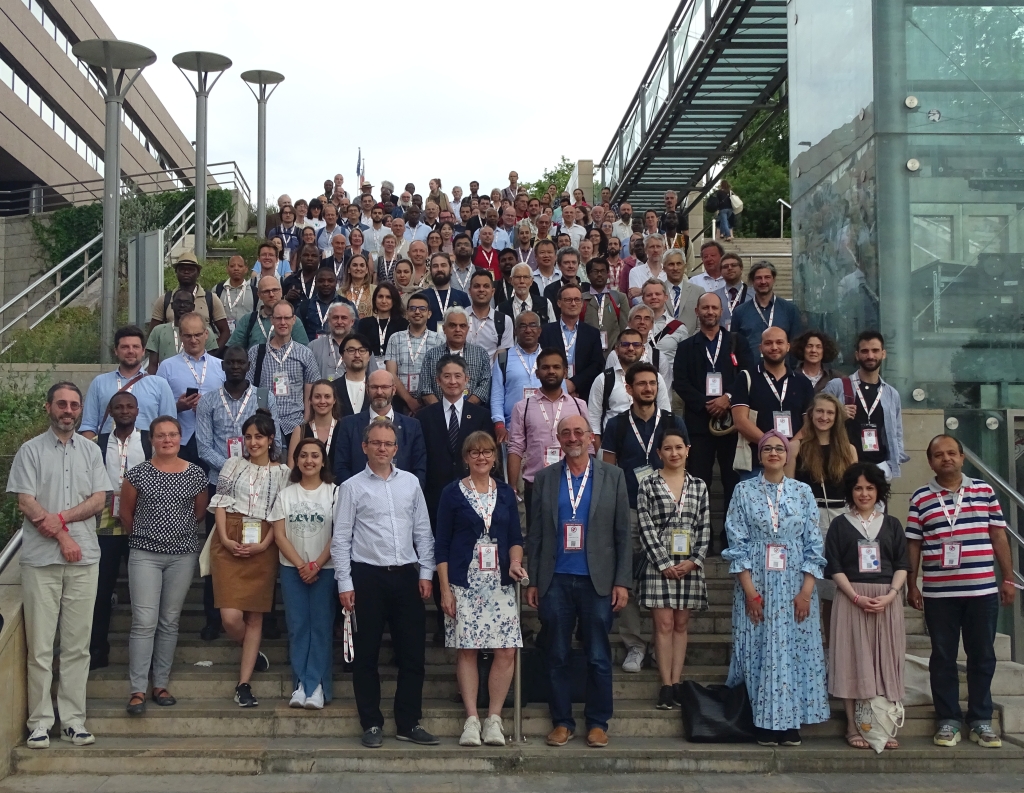 In 2021 the local organising committee decided not to hold the meeting in hybrid mode to encourage attendance and better collaboration. This was generally thought to be a good decision especially for the networking opportunity availed to younger members. Members were delighted to meet again and have the opportunity for discussion and interaction.
IAHS2022 was the first in-person assembly since the XXVIIth IUGG in Montréal in July 2019. The plenary therefore provided an opportunity to celebrate IHP IAHS-UNESCO-WMO medallists and Tison award winners for three years (2020-2022). Our congratulations go to them all.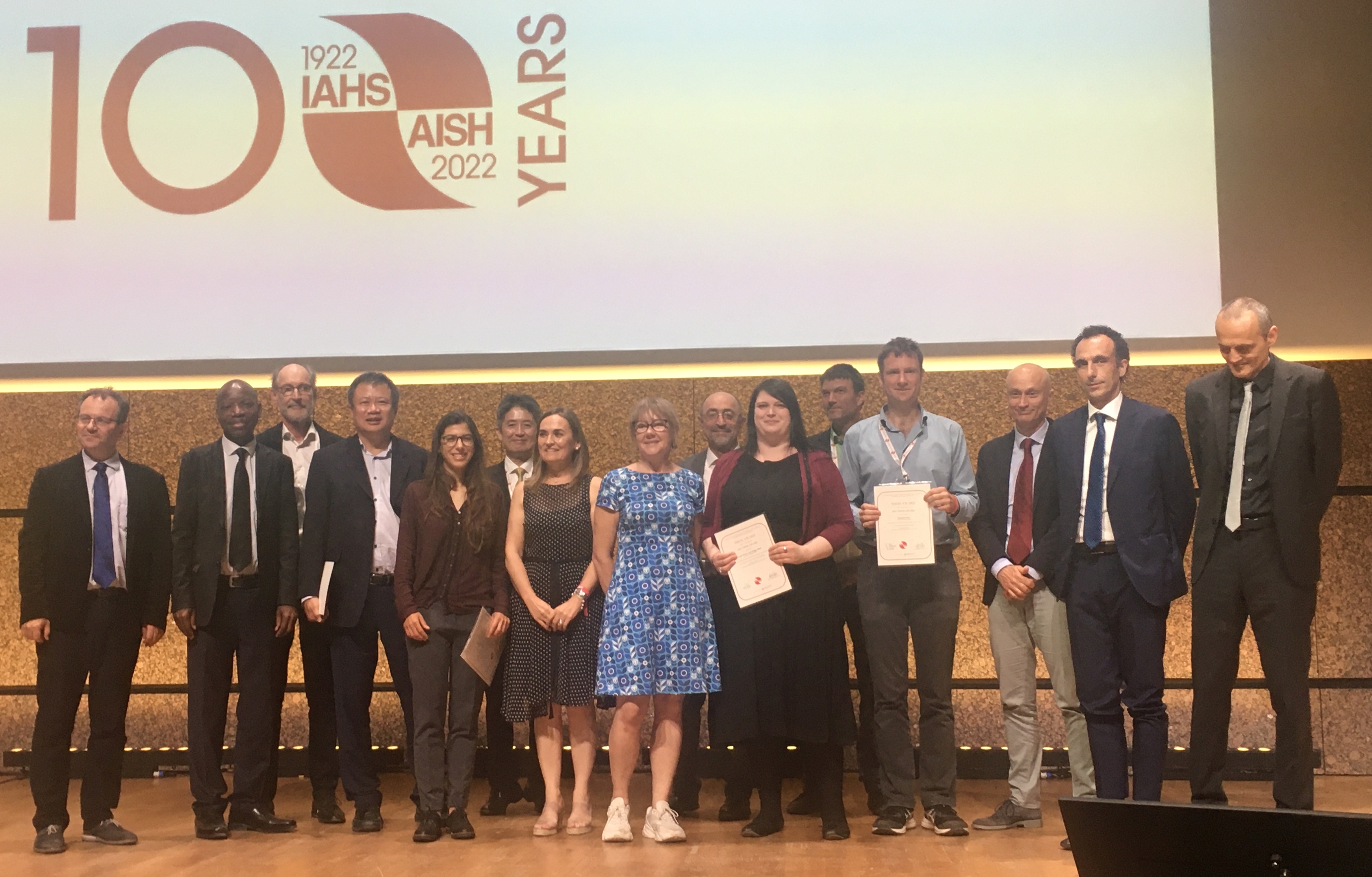 Left to right: Christophe Cudennec (Secretary General IAHS), Abou Amani (Director, Division of Water Sciences UNESCO), Hubert Savenije (2020 Dooge medallist), Francis Chiew (2022 Volker medallist), Eleni Maria Michailidi (2020 Tison awardee), Taikan Oki (2021 Dooge medallist), María José Polo Gómez (2022 Dooge medallist), Berit Arheimer (President IAHS), Günter Blöschl (Past President IAHS), Svenja Fischer (2021 Tison awardee), Johannes Cullmann (Director, Climate and Water Department, WMO – receiving award for Harry Lins 2021 Volker medallist), Alexander Ross (2022 Tison awardee), Attilio Castellarin (Editor in Chief HSJ), Salvatore Grimaldi (Vice President IAHS), Bruno Merz (2020 Volker medallist).
Of the 33 SYSTA awards granted to attend the assembly 25 were able to participate. Seven were unable to attend due to visa issues and one withdrew. IAHS organised their flights, accommodation and registrations as well as refunding local expenses up to a maximum total of €2,500. They all spoke highly of the opportunity afforded to them to meet and interact with their peers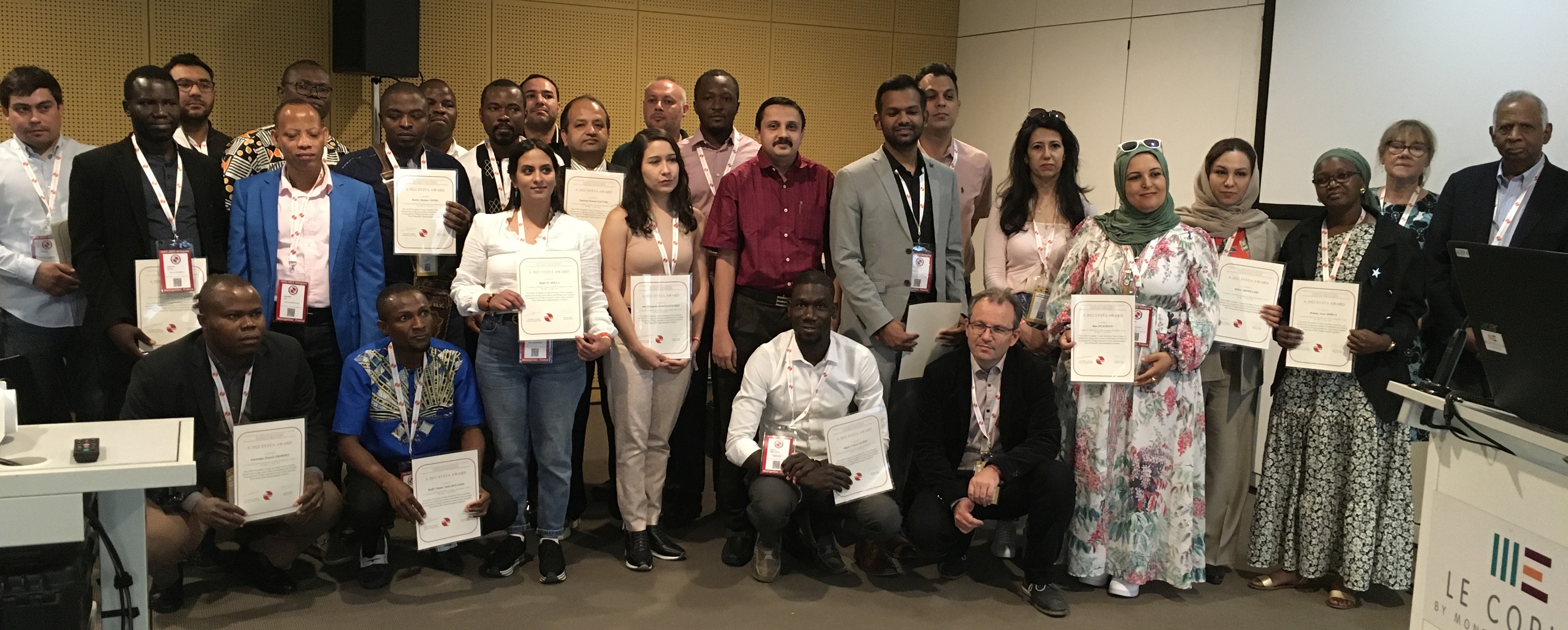 The second the Early Career Committee representatives took up their roles during the assembly. IAHS international commissions and working groups, the Editorial Board of Hydrological Sciences Journal and the IAHS Bureau had strategic and operational meetings. WMO and UNESCO took the opportunity to reach out to the scientific community on their latest developments and on science-operational-policy interactions.