News
IAHS News
'Hydrology of Large River Basins of Africa' is now available as PIAHS 384
The papers from the 4th International Conference on the ''Hydrology of the Great Rivers of Africa'' in Cotonou, Benin, November 16-20 2021 are now available online open access as PIAHS 384.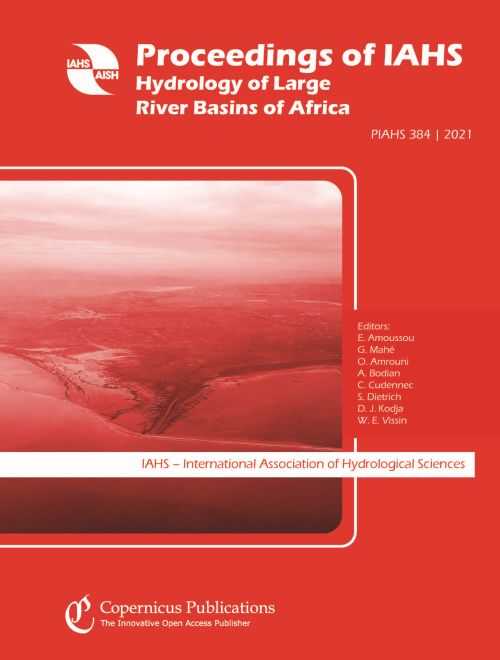 https://piahs.copernicus.org/articles/384/index.html
This conference is the fourth of a series started in 2015 in Tunisia, followed by a second edition in Senegal in 2016, and a third one in Algeria in 2018. As usual this conference is the occasion to organize training courses, side-event workshops, and for the first time a PIAHS volume. This cycle of conferences also refers to the World Large Rivers Initiative launched by UNESCO in 2014 to which it contributes for the continent. The scientific coverage is comprehensive across the global theme of large rivers; ranging from observation, characterisation and modelling of various processes and settings, to the analysis of regimes, changes and security issues. Articles published in that issue, are hence much related to most of the 10 International Commissions of IAHS, and to cross-cutting and agenda-setting initiatives: innovation and assimilation in hydrometry and the data-service value chain, Prediction in Ungauged Basins – PUB, Hydrological change – Panta Rhei and related Water security and nexus approach, and socio-hydrology and citizen engagement. The clustering of the articles in three sections captures that alignment through a progression from hydrological dynamics, to regimes and changes, and to security. The range of African Large Rivers addressed across these articles is a richness as such, with an ultimate value for comparative hydrology; whereas some local studies are also included, which are valuable for documenting knowledge and models.
This open access bilingual issue is of particular interest and value for a large community of authors and readers in Africa, in terms of knowledge capitalization and sharing, both at the regional and international levels, within academia and in the science-policy bridging – as advocated by learned societies and UNESCO in terms of Open Science and public good. Leading authors come from 15 African countries, Canada, France and UK. Beyond these figures, this issue shows the great expectation of African researchers to integrate international institutional activities and share common scientific reflections. This PIAHS volume, as a contribution to the FRIEND-Water program, shortly follows the one published in 2020 out of the Beijing Global FRIEND-Water conference in 2018. The next Global FRIEND-Water conference is scheduled to be held in Dakar, Senegal in March 2023. The contribution of the African scientific community to IAHS activities is strongly increasing, which is also visible by the very large registration of African colleagues to the ongoing 23 UPHs in Africa initiative, whose results should be integrated to the global 23 UPHs discussions scheduled in Montpellier IAHS XIth scientific assembly in May–June 2022.