IAHS News
Open Call for Co-Editors for the IAHS Digital Water Globe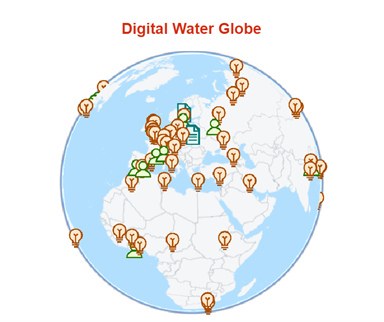 Engage and take lead of this new digital innovation connecting IAHS members!
The Digital Water Globe is open for everyone to easily explore and find recent advances in hydrological sciences. The tool gives visibility to both published and unpublished findings, as long as it is evidence-based. It can hold action-oriented key-messages to stakeholders, as well as scientific synthesis on specific processes in the hydrosphere. It is a common ground to share and search scientific information, using site location or keywords.
Background
The digital revolution is accelerating and the past pandemic induced both constraints and innovations. To coincide with the IAHS centenary in 2022, the IAHS Bureau decided to develop a digital water globe (DWG), which aimed to stimulate and facilitate engagement, interactions, and dialogues between IAHS scientists and stakeholders, such as other experts, practitioners, media, and citizens. The development uses state-of-the-art technology in web visualisation to share cutting-edge hydrological research in case studies and datasets from all IAHS members as well as IAHS scientific publications.
The DWG enables
Global graphical display of case studies, people, publications and data.
Search and find functions for targeted scientific achievements (based on keywords and filtering).
Opportunity for visibility and scientific outreach.
Ability to link research groups and foster scientific collaboration.
Framework for displaying and linking projects contributing to IAHS Commissions and Initiatives (e.g. UPH, Committees, Working Groups, and Scientific decades - PUB, Panta Rhei, HELPING).
Evolution and innovation over time to provide an on-going platform and archive.
Leadership
To ensure DWG progress for continuous successful user uptake and impact, we are looking to appoint two DWG Co-Editors who will be supported by a team of Associate Editors and a Steering group. The DWG Co-Editors will be appointed for two years initially and are responsible for:
Promoting the DWG within IAHS and to other water stakeholders.
Attracting content to the DWG.
Guiding the DWG Associate Editors.
Reporting annually on the DWG to IAHS Bureau and the DWG Steering Group.
To be considered as a potential DWG Co-Editor, please complete this Google Form (now closed) before 17 November 2023. If you cannot access the online Google form, please contact the IAHS office on [email protected]. Each applicant will be contacted directly via email by the IAHS office and the following documents will be requested:
A covering letter no longer than 1 page, including the names and email addresses of two contactable referees.
A resume no longer than 2 pages.
Once all applications have been received, the call will be closed and the IAHS management team will evaluate the applications based on documented leadership skills, scientific knowledge in the field, experience in community management, and personal engagement / qualities. The appointments will be announced in December.
Good luck!
back to top