IAHS Commission Officers for the 2023-2027 period
IAHS has 11 International Commissions, populated by volunteers to synthesise and accelerate science in various fields of hydrology.
Results of the 2023 elections held during the IAHS Administrative Plenary on Wednesday 12 July. The offices will be held for the period 2023-2027, except for the Presidents who were elected in 2019 and whose mandate is 2021-2025. In 2025 the Presidents will become Past-Presidents and the Presidents-Elect will become Presidents.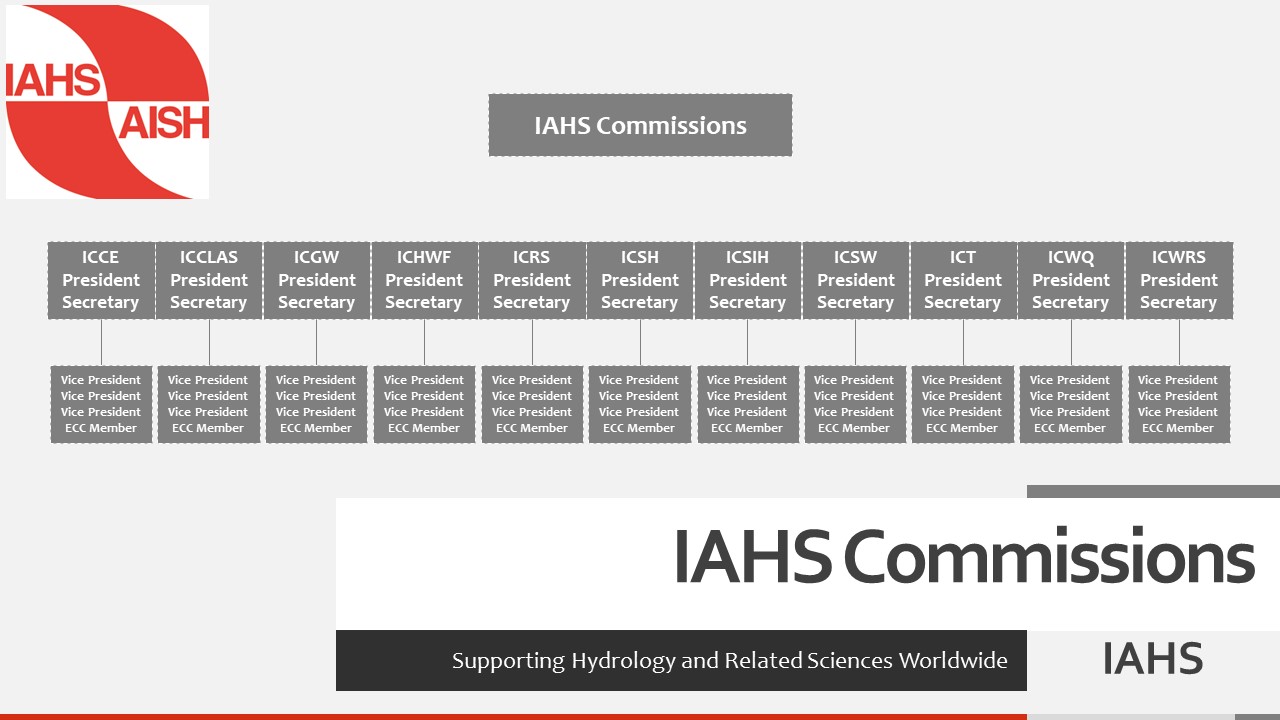 Position

Name

Nationality / Residence

Email Address

President-Elect

Russia

President

Italy

Vice President

Brazil

Vice President

Peter Molnar

Slovakia/Switzerland

Vice President

USA

Secretary

Michal Habel

Poland

ECC Representative

Russia/New Zealand

President-Elect

UK

President

Canada

Vice President

India / USA

Vice President

UK

Vice President

China

Secretary

Rodolfo Nóbrega

Brazil/UK

ECC Representative

USA

President-Elect

USA

President

Brazil / USA

Vice President

Japan

Vice President

China

Vice President

India

Secretary

Italy

ECC Representative

Canada / Iran

ICHWF Human-Water Feedbacks

President

Germany

Vice-President

Netherlands

Vice-President

India / Netherlands

Vice-President

Germany

Secretary

USA

President-Elect

Spain

President

Iran / USA

Vice President

China

Vice President

Italy / USA

Vice President

France

Secretary

India

ECC Representative

India

President-Elect

Poland

President

Italy

Vice President

Italy

Vice President

Greece / Canada

Vice President

Australia

Secretary

Italy / Belgium

ECC Representative

India

President-Elect

USA / Chile

President

UK

Vice President

Dhiraj Pradhananga

Nepal

Vice President

China

Vice President

USA

Vice President

Russia

Secretary

USA

ECC Representative

Germany

President-Elect

France

President

UK

Vice President

Bénin

Vice President

Elizabeth Boyer

USA

Vice President

Algeria

Secretary

Turkey

ECC Representative

Burkina Faso / Ghana

President-Elect

Japan

President

China

Vice President

Denmark

Vice President

Koichi Sakakibara

Japan

Vice President

Germany / USA

Secretary

China

ECC Representative

USA / India

President-Elect

China

Co-President (2023-2025)

China

Co-President (2021-2023)

India

Vice President

USA / Norway

Vice President

UK

Vice President

Belgium

Secretary

Czech Rep. / Sweden

ECC Representative

Cameroon

President-Elect

Brazil

President

Australia

Vice President

USA

Vice President

China

Vice President

Italy

Secretary

Turkey

ECC Representative

Japan / Fiji
---
Last Update July 2023
back to top