2015 News
2015 IAHS News
Whitepaper: 5 KEY Elements of Hydrological Monitoring
Written for water resource managers, the whitepaper "5 Essential Elements of a Hydrological Monitoring Program" presents the latest industry standards and best practices for improving the availability, reliability, and accuracy of data for today's water monitoring programs.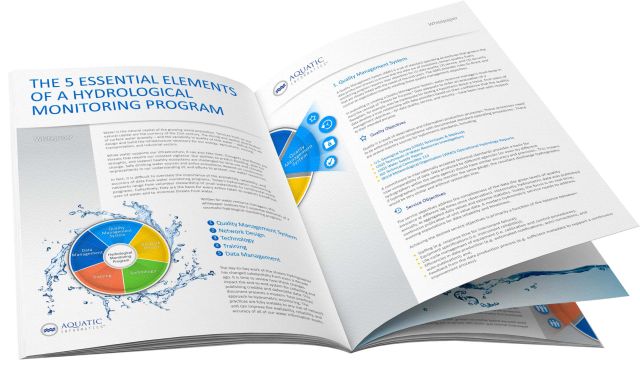 1. Quality Management System – read the latest international industry standards from the USGS, ISO, and WMO to improve your QMS.
2. Network Design - get tips to optimize the design of your network to meet your monitoring objectives and account for the complexity of your watershed.
3. Technology - consider new strategies for selecting technologies that can maximize your information-to-cost ratio over the lifespan of your devices.
4. Training - discover how training can help minimize procedural blunders resulting from errors in data collection and data handling.
5. Data Management - learn how modern systems help automate quality controls, build better rating curves, and publish defensible hydrological data.
Get your free whitepaper here!
About the Author: Stu Hamilton was a senior hydrometric technologist with Water Survey Canada for nearly 30 years and managed the operations of 500+ monitoring stations. He is an expert volunteer with WMO, ISO, NASH, and OGC. Stu is Senior Hydrologist at Aquatic Informatics – which provides the leading software suite to acquire, process, model, and publish water data.
---
Sent to you by the IAHS, on behalf of Aquatic Informatics.
This is not an endorsement of the Whitepaper or the AQUARIUS water data management system.