2016 News
2016 IAHS News
Hydrological Sciences Journal Subscription
HSJ
Co-Editors: Demetris Koutsoyiannis, Mike Acreman & Attilio Castellarin
The annual subscription is now due for Volume 61 (2016) of HSJ. Volume 61 has increased in size from 12 issues to 16 but the subscription rate remains the same as in 2014. Volume 61 will contain two special issues/sections: Hydrology and Peace in the Middle East (invited; K. Aggestam and R. Berndtsson) and Facets of Uncertainty (Kos October 2013; A. Carsteanu, E. Eris, S. Weijs and E. Volpi). A special series of invited opinion papers directly linked to the IAHS "Panta Rhei" initiative has also been launched in HSJ, coordinated by associate editor Heidi Kreibich.
Hydrological Sciences Journal provides a forum for original papers and discussion of significant developments in hydrological science and practice, and related disciplines. In July 2015 we announced the continued rise in Impact Factor (IF) for HSJ: 1.549 for 2014 with a 5-Year IF of 1.864 (©2015 Thomson Reuters, 2014 Journal Citation Reports®).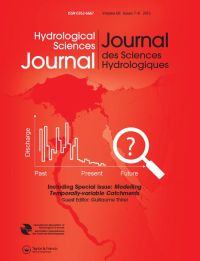 Special journal subscription rates are available to IAHS Members: £27.00 for a personal online subscription, and £48.00 for a personal online + print subscription (£32.40 and £53.40, respectively for EU members, inclusive of VAT). IAHS members in the poorest countries receive free online subscriptions.
Access to the back archive is free - explore 58 volumes of cutting-edge research and discovery.
You can renew your membership online via the IAHS website at https://iahs.info/Members-Area/hsj-link.do or contact the IAHS office via phone +44 1491 692515, fax +44 1491 692448 or email info@iahs.co.uk .