2016 News
2016 IAHS News
2016 Tison Award Ceremony
The 2016 Tison Award was presented to Guillaume Thirel, Jean-Nicolas Audouy, Lionel Berthet, Carina Furusho, Anna Kuentz, Julien Lerat, Thibault Mathevet, & Denis Ruelland.
For the paper:
G. Thirel, V. Andréassian, C. Perrin, J.-N. Audouy, L. Berthet, P. Edwards, N. Folton, C. Furusho, A. Kuentz, J. Lerat, G. Lindström, E. Martin, T. Mathevet, R. Merz, J. Parajka, D. Ruelland & J. Vaze (2015) Hydrology under change: an evaluation protocol to investigate how hydrological models deal with changing catchments, Hydrological Sciences Journal, 60:7-8, 1184-1199, DOI:10.1080/02626667.2014.967248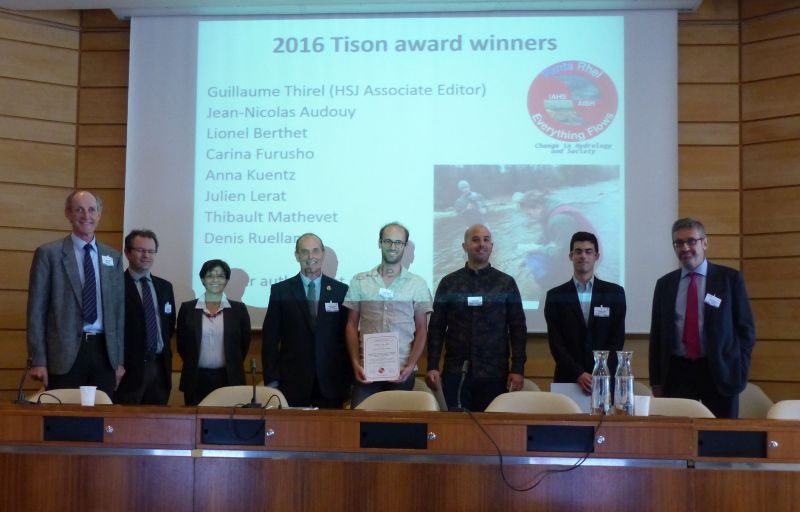 Left to Right: Hubert Savenije (President, IAHS), Christophe Cudennec (Secretary General, IAHS), Blanca Jiménez-Cisneros (UNESCO), Mike Acreman (Co-editor HSJ), Guillaume Thirel (Irstea, Tison Award Recipient), Thibault Mathevet (EDF-DTG, Tison Award Recipient), Lionel Berthet (DREAL Centre-Val de Loire, Tison Award Recipient), Tommaso Abrate (WMO).

The paper is available open access: http://www.tandfonline.com/doi/abs/10.1080/02626667.2014.967248
The IAHS Tison Award, established in 1982, aims to promote excellence in research by young hydrologists. The Award is granted for an outstanding paper published by IAHS in a period of two years previous to the deadline for nominations.
https://iahs.info/About-IAHS/Competition--Events/Tison-Award.do