Professor Junguo Liu (China) is the recipient of the 2023 Volker Medal (International Hydrology Prize) of IAHS/UNESCO/WMO
For his fundamental contributions to water resources research, science and policy engagement, and his relentless services in hydrology communities.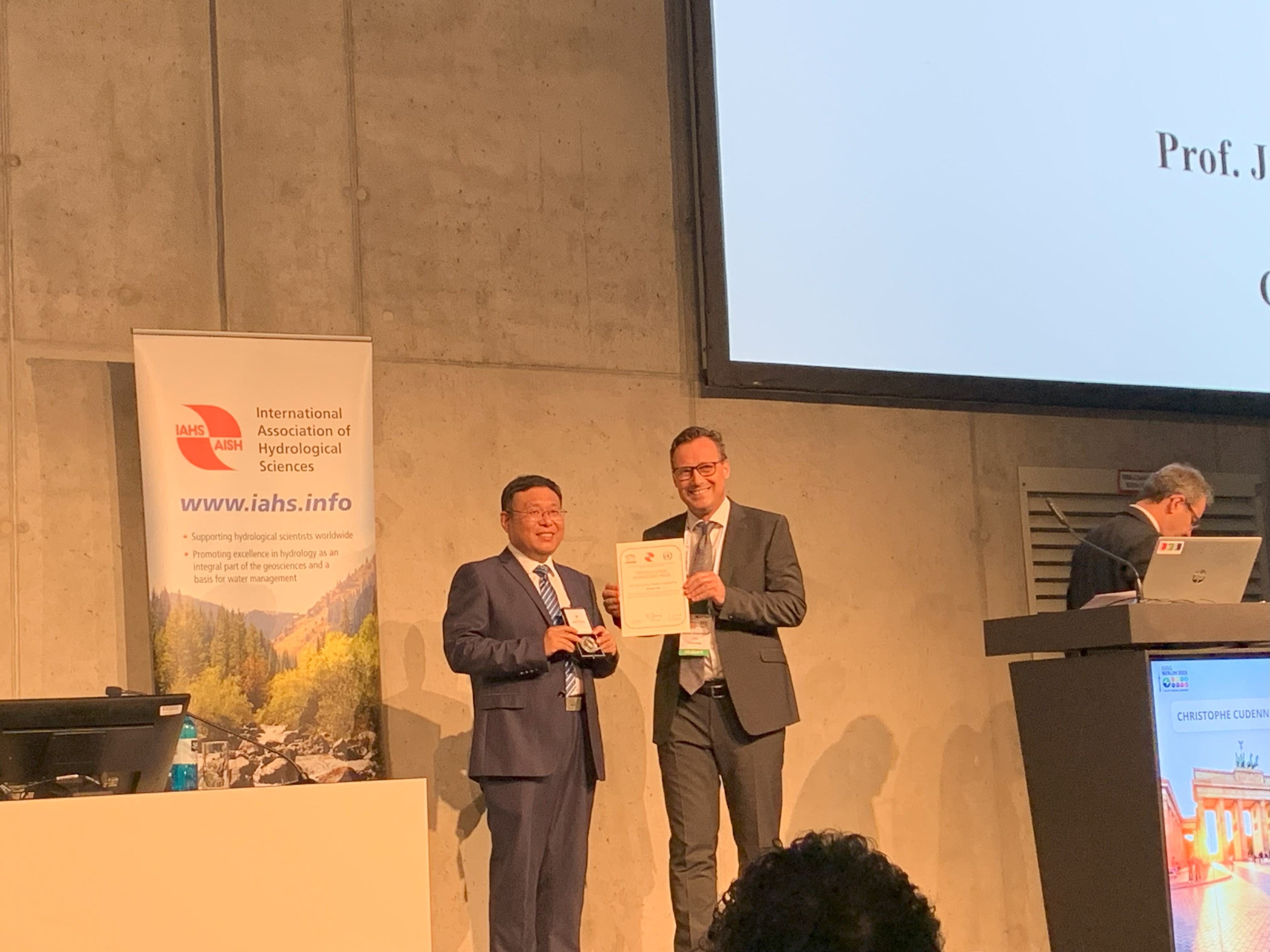 Citation by Dr Stefan Uhlenbrook (WMO)
I am delighted to address Professor Junguo Liu as the 2023 recipient of the Volker Medal.
I am grateful to Professor LIU Zhiyu, China National Representative of IAHS for nominating Professor Liu.
Prof. Liu's research interests relate to water resources accounting and effective water management given competitive demand among sectors (i.e., various industries, agriculture and food systems and domestic uses) and particularly considering ecosystem degradation and climate change. He has made fundamental contributions in several theoretical areas including spatially explicit water and nitrogen flux accounting, integrated hydro-economic modelling, water scarcity assessment, uncertainty analyses of climate change impacts, as well as in supporting policies for solving water problems.
His contributions have been highly appraised with several international and national awards and honours, including an elected member of the Swiss Academy of Engineering Science, Academy of Europe (Academia Europaea), a fellow of the American Association for the Advancement of Science (AAAS), AGU's Paul A. Witherspoon Lecture, EGU's Outstanding Young Scientists Award, and National Distinguished Young Scientist Award of China.
Prof. Liu addresses questions such as how water use, water quality and water scarcity are affected by economic activities, how do they vary among regions in the context of climate change, and what management strategies could effectively mitigate water scarcity and restore degraded aquatic ecosystems. Therefore, he developed and applied a number of numerical models that have been also widely used by other.
Prof. Liu's enthusiasm and dedication to water research has resulted in over 260 peer-reviewed publications, with a total citation of 16,006 and H-index of 60 on Google scholar. He is a highly cited researcher.
Furthermore, Prof. Liu has been leading an interdisciplinary team to conduct integrated water resources assessment with development of hydro-economy models, which enable tracing water uses among different regions and economic sectors. The approach facilitated one of the first detailed accountings of physical and virtual water flows in China's provinces and economic systems.
Contributions to IAHS and the international community:
Since 2013, Professor Liu has been chairing a working group under the decadal program Panta Rhei of IAHS on water scarcity assessment. His leadership in water scarcity assessment has brought collaborations among scientists from different continents and resulted in many high-quality publications in the most renown scientific journals. Furthermore, he is involved in several internationally joint activities in addressing impacts of climate change on water resources and uses, such as ISIMIP and he has been a lead author of the water chapter of the 6th assessment report of the IPCC report.
Dear colleagues,
The Volker medal is dedicated for hydrologists who have applied their research and hydrological expertise to the benefit of society, addressing issues of public interest and development. So, it is not only the scientific excellence that counts.
It is important to stress that Prof. Liu's research is problem-driven and policy relevant. He has been integrating ecosystem-based "green" infrastructure to solve water problems and, notably, his research results and policy recommendations have directly contributed to the restoration of the Yongding River in Beijing; ecological conservation and restoration in Suzhou city; river rehabilitation in Shenzhen, among others. His research has informed various levels of authorities in China (e.g., the Ministry of Water Resources, State Administration of Forestry and Grassland) to develop better water policies. Prof. Liu is the founding president of China's first society focusing on ecological restoration (Society for Ecological Rehabilitation of Beijing).
Further, Prof. Liu has helped a number of international companies and institutes in developing their strategies and plans for environmental sustainability. E.g., he helped SGS company (a world's leading inspection, verification, testing and certification company with 15,000 local professionals in China) to expand a new business for water footprint verification. He worked with Nestlé in a program to reduce food waste and save water.
In summary, Prof. Liu's outstanding and internationally recognized contributions to water resources research and science-policy engagement, and extensive services to the hydrological communities are, without doubt, deserving the prestigious Volker medal awarded by IAHS in collaboration with UNESCO and WMO. The citation of this medal states that professor Liu receives the Volker medal "for his fundamental contributions to water resources research, science and policy engagement, and his relentless services in hydrology communities".
Thank you for your attention.
Response from Junguo Liu
Thank you, Dr. Stefan Uhlenbrook, for your kind words.
Dear All,
I am profoundly honored to be the recipient of the esteemed International Hydrology Prize, jointly conferred by IAHS, UNESCO, and WMO. This accolade bears considerable weight in the realm of hydrology, and receiving it is a true distinction.
I wish to convey my deepest appreciation to the Chinese National Committee for IAHS for their steadfast support. Their confidence in the importance and merit of my work has been pivotal in achieving this distinguished honor. I must especially extend my gratitude to Prof. Zhiyun Liu for his kind nomination.
I am profoundly grateful for the numerous opportunities presented to me throughout my career, particularly during my tenures at the North China University of Water Resources and Electric Power and the Southern University of Science and Technology. These esteemed institutions have not only nurtured my passion for hydrology but also empowered me to make significant strides in the field. A special mention goes to my dedicated team members at these institutions, including the bright PhD and master's students. Their unwavering commitment, passion, and innovative ideas have truly enriched our scientific pursuits. Thank you for your relentless dedication and invaluable contributions to our collective vision.
I recognize that my accomplishments have been a collective effort, built on the collaboration and support of countless individuals who have influenced my path. My heartfelt thanks go out to my supervisors Prof. Alexander J.B. Zehnder, Prof. Hong Yang, and Prof. Hubert H.G. Savenije, who have been instrumental in my academic and professional growth. Additionally, I am deeply grateful to the myriad of collaborators, colleagues, and partners for their invaluable expertise and insights. Together, we have not only broadened the horizons of hydrological research but also deepened our collective knowledge in the realm of water resources management.
I wish to extend my heartfelt gratitude to Panta Rhei, the IAHS's decadal program spanning 2013 to 2022. Serving as a target leader of Panta Rhei has provided me the unique opportunity to work alongside outstanding scientists from various corners of the world. Their vast expertise and unwavering dedication have been pivotal in shaping my journey and accomplishments.
Looking ahead, I am enthusiastically awaiting the opportunity to deepen my involvement in the third Scientific Decade of IAHS, termed HELPING (2023-2033). This upcoming decade is set to adopt a solution-centric approach, with the aspiration to delineate the scientific basis needed to comprehend and address the localized repercussions of burgeoning global water issues. At this juncture, I wish to spotlight two recently established working groups. One focuses on the Stepwise Ecological Restoration of Watersheds, and the other is committed to the Development and Application of River Basin Simulators. Both initiatives resonate deeply with my interests, and they promise to foster expansive collaborations with researchers from all corners of the world.
Lastly, and most importantly, I must extend my deepest gratitude to my family, especially my wife and two sons. Their consistent support and the sacrifices they've made form the bedrock of my professional journey.
Receiving the Volker Medal is a tremendous honor, but it also comes with a responsibility to continue pushing the frontiers of hydrological science and contributing to the well-being of our planet. I am truly humbled by this recognition and it has motivated me even more to continue making a positive difference in managing our limited water resources.
Thank you.
back to top