THE 2016 TISON AWARD GOES TO GUILLAUME THIREL (FRANCE), JEAN-NICOLAS AUDOUY (FRANCE), LIONEL BERTHET (FRANCE), CARINA FURUSHO (FRANCE), ANNA KUENTZ (SWEDEN), JULIEN LERAT (AUSTRALIA), THIBAULT MATHEVET (FRANCE), DENIS RUELLAND (FRANCE).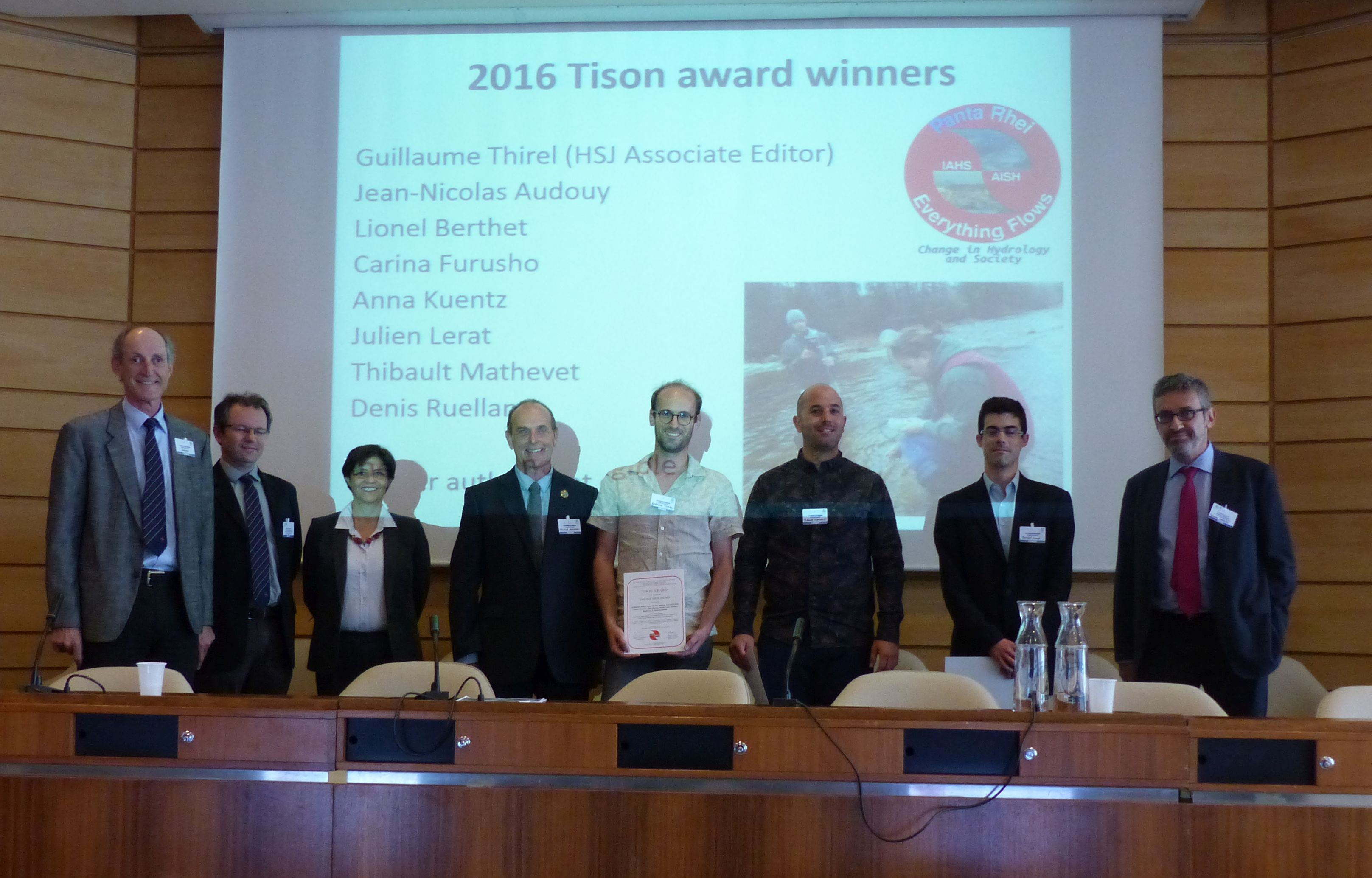 Left to Right: Hubert Savenije (President, IAHS), Christophe Cudennec (Secretary General, IAHS), Blanca Jiménez-Cisneros (UNESCO), Mike Acreman (Co-editor HSJ), Guillaume Thirel (Irstea, Tison Award Recipient), Thibault Mathevet (EDF-DTG, Tison Award Recipient), Lionel Berthet (DREAL Centre-Val de Loire, Tison Award Recipient), Tommaso Abrate (WMO).
The winning paper is:
G. Thirel, V. Andréassian, C. Perrin, J.-N. Audouy, L. Berthet, P. Edwards, N. Folton, C. Furusho, A. Kuentz, J. Lerat, G. Lindström, E. Martin, T. Mathevet, R. Merz, J. Parajka, D. Ruelland & J. Vaze (2015) Hydrology under change: an evaluation protocol to investigate how hydrological models deal with changing catchments, Hydrological Sciences Journal, 60:7-8, 1184-1199, DOI: 10.1080/02626667.2014.967248
Citation from Prof. Mike Acreman, Co-editor Hydrological Sciences Journal
Good afternoon everyone. It is my honour as chair of the award committee to present this year's IAHS Tison Award.
As many of you will know, Professor Léon Tison was a past Secretary-General and President of IAHS. He was by specialism a hydraulic engineer, but he work tirelessly to promote the science of hydrology and is noted for helping to initiate the UNESCO and WMO programmes in hydrology and particularly the Hydrological Decade 1965-1974.
It is fitting that this 'father figure' of hydrology gave his name to an award, established in 1982, to promote excellence in research by young hydrologists (defined as those under 41). The Award is granted to authors of an outstanding paper published by IAHS in the previous two years. Nominations are given votes by a jury of the Editor in Chief of PIAHS, HSJ co-Editors and Presidents of the IAHS International Commissions.
Taylor & Francis kindly provide a prize and free 1-year access to HSJ to the winners. In addition, the award is prestigious academically and includes a citation in the name of L.J. Tison.
As discussed during the Kovacs Colloquium today, two of the most important developments in hydrology in recent decades have been the appreciation of our changing environment, whether natural or anthropogenically-driven, and the improvements in models to project what this change might bring to floods, droughts and other issues associated with the hydrological regime. A major issue is that there are numerous models with different conceptualisations of the hydrological cycle, different parameters sets and different methods of calibration and testing. This makes it very difficult to compare model outputs or come to any rational consensus about what models are telling us in general. Addressing this issue, a paper was published in Hydrological Sciences in August 2015 entitled 'Hydrology under change: an evaluation protocol to investigate how hydrological models deal with changing catchments". This paper presents the results of a unique experiment to test a set of very different catchments from Europe, North America, Australia and Africa. The experiment was facilitated by a workshop at the 2013 scientific assembly of IAHS in Göthenburg. Each catchment has been experiencing different land use or climate changes. The experiment employed a common framework of statistical procedures and graphical tools to assess model performance, thus laying a foundation for future modelling studies of environmental change. As such the article provides an excellent prelude to the Panta Rhei initiative of IAHS (2013-2022).
It is my privileged to make the 2016 Tison Award to the eligible authors: Guillaume Thirel (Associated Editor HSJ), Jean-Nicolas Audouy, Lionel Berthet, Carina Furusho, Anna Kuentz, Julien Lerat, Thibault Mathevet and Denis Ruelland. I am delighted that Guillaume, Lionel and Thibault are here today to collect their awards.
Prof. M. Acreman
Co-editor, Hydrological Sciences Journal
---
Response from Guillaume Thirel
Dear Professor Acreman, dear members of the Tison Award committee, dear colleagues,
Having our names added to the list of distinguished researchers who obtained the Tison award in the past is definitely a great honour for us.
Actually, this award is not just the story of one article. As Professor Acreman mentioned, the article followed a long-term scientific process including a workshop at the 2013 scientific assembly of IAHS in Gothenburg and it was part of a Special Issue published in 2015 in the Hydrological Sciences Journal.
I will talk about the co-awardees later on, but I would first like to acknowledge two of the co-authors of this paper, Charles Perrin and Vazken Andréassian, who actually gave me the opportunity to lead this project. I remember when they first mentioned to me the Gothenburg workshop, right after I started at Irstea in 2012. They told me they had promised to organise an ambitious participative modelling exercise on changing catchments and that they thought I could actually lead it. I said: "Hmm ok, what do you have in mind?". They told me that it would be nice to provide the modellers with a dataset on several changing catchments all over the world, in order to cover the most usual natural and human influences, that it would be nice to set up an original calibration protocol that people would have to respect, that it would be nice to ask them to run their models weeks before coming to Gothenburg, that I could also produce statistics and plots from the numerous simulations produced by everyone, and that of course there would be no funding for doing that! In these times when researchers are asked to write projects and get funds for it, that sounded very ambitious to have such a thing really functioning. But it worked, since we had more than forty abstracts submitted. And many people attended the workshop, which lead to very stimulating discussions.
Then, I asked: "Is that all?". "Well, maybe we could also organise a Special Issue in the Hydrological Sciences Journal and we could write a couple of articles about the whole thing". We did it, and that is why I am here today to receive this award. So I would like to thank both of them for that! I also would like to stress the fact that Charles missed a second Tison award only because he is two months too old (I feel a bit guilty about this, because if I would have been faster in writing the article, Charles would have been a double awardee).
The awarded article aimed at summarising the methodology of this workshop, a methodology that is in my opinion an opportunity to strengthen the confidence we can have in our models when dealing with changing conditions. So in case you are interested in hydrology under change, I invite you to have a look at this article. This article also describes the dataset we used. The collection of the data and the writing of detailed descriptions of the basins, the changes they faced and past studies on these basins are not tasks I did all by my own and this is why this article has seventeen co-authors. This is also why today, even if we are only three awardees present here, we set a new record of awardees at the same time, with a number of eight young scientists awarded (previous record was five I think). I would like to excuse them for not being there, since, even though all of them are French (or binational), some of them are currently spread in Sweden, Germany, Australia, hiking in Corsica or about to give birth, and as a consequence they could not come. However this award is also their award and I hope that it will fully benefit to those who aim at continuing a career in research.
To finish I would like to thank again all my co-authors, the modellers who participated in the workshop, the colleagues and scientists I discussed with for setting up this experiment, and I would like to thank again the Tison award committee, Christophe Cudennec, Hubert Savenije, Professors Acreman, Koutsoyiannis and Castellarin, Frances Watkins, Cate Gardner, Claire Lupton from HSJ and Taylor & Francis, and Claude Michel.
Thank you.
back to top