H.H.G. Savenije
Professor Hubert Savenije is the recipient of the 2020 Dooge Medal (International Hydrology Prize) of IAHS/UNESCO/WMO
For brilliant contributions to the advancement of knowledge in surface hydrology processes and methods across five continents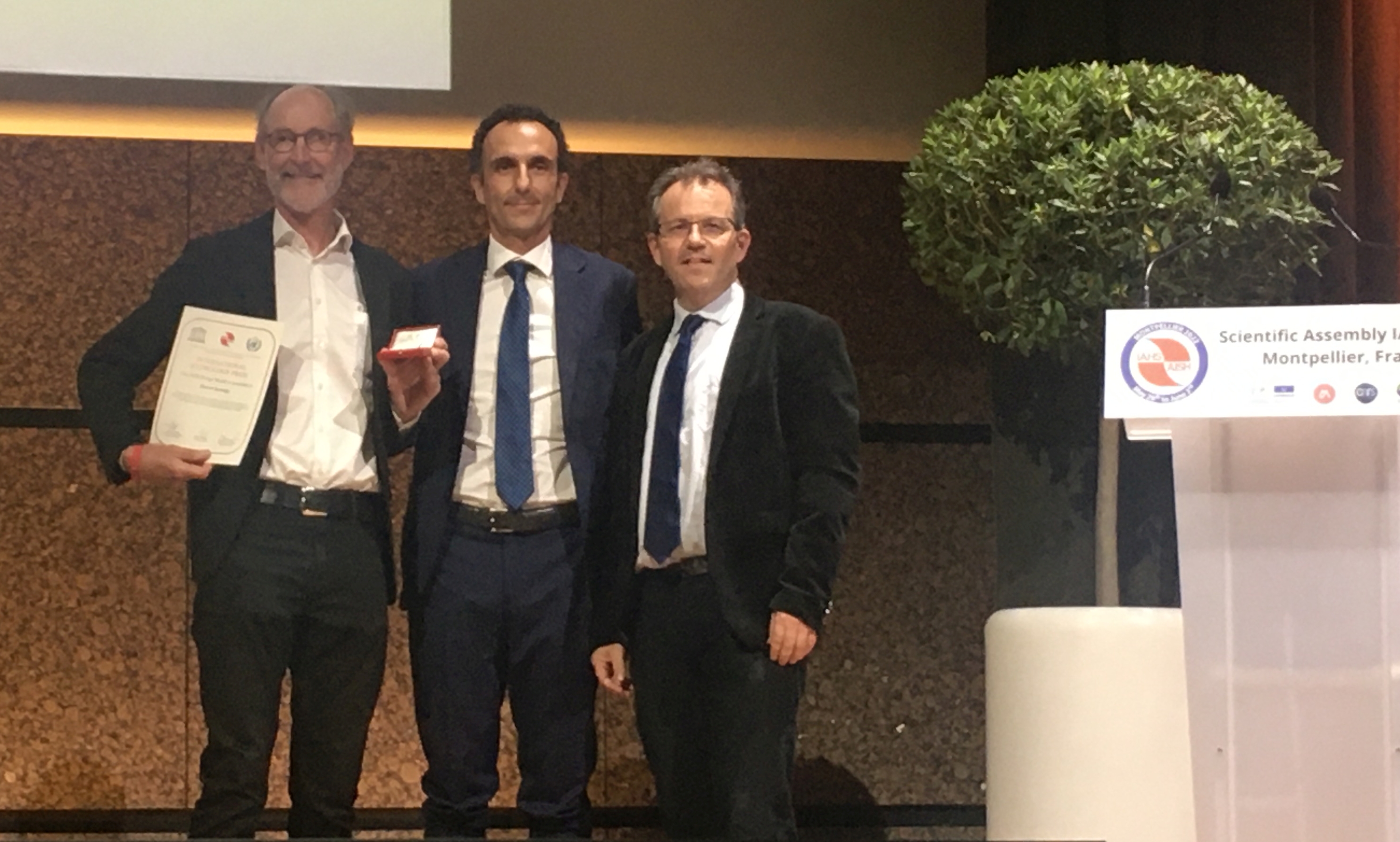 Citation given by Salvatore Grimaldi
Professor Hubert Savenije studied at Delft University of Technology, in the Netherlands, where he obtained his MSc in 1977 in Hydrology. He started his career as a young hydrological engineer in Mozambique and worked as an international consultant mostly in Asia and Africa. He joined academia in 1990. In 1994 he was appointed Professor of Water Resources Management at UNESCO-IHE, Institute for Water Education in Delft.
It is difficult to summarize his long record of achievements, just to mention a few:
More than 300 publications with high impact factor, a high h-index (70), a huge number of citations, He was Editor in Chief of HESS, President of IAHS and EGU, and was awarded outstanding medals (Henry Darcy, Alexander von Humboldt, International Award of AGU)..
His research addressed most of the hydrological cycle processes and models.
In the area of estuarine hydrology, Hubert developed new analytical theories that deal with hydraulics, mixing, morphology, and salinity. He introduced an integrated approach for salinity and tides, using examples from many estuaries around the world.
He also contributed very significantly to the understanding of atmospheric moisture recycling long before it became mainstream in hydrology. He found that recycling is responsible for more than 70% of the rainfall in large parts of the Sahel, China, and South America.
In the area of catchment hydrology, Professor Savenije explored hydrological responses at catchment scales across Africa, Asia, Latin America, and central Europe, including large river basins such as the Zambezi and the Nile. He pioneered the concept of flexible -landscape-​based model structures as a way to develop parsimonious models.
Hubert Savenije has dedicated much of his career to education and capacity building of water scientists from developing countries including Bangladesh, China, Vietnam, Indonesia, India, Nepal, Egypt, Ethiopia, Kenya, Tanzania, Mozambique, Zambia and Zimbabwe.
In 2000, Prof. Savenije was the main initiator and one of the driving forces behind the establishment of WaterNet, a regional network of 50 universities and research institutes in Southern Africa for education, research, training and outreach in Integrated Water Resources Management (IWRM).
So, following this long record of successful research activities, prof. Hubert Savenije is clearly an outstanding scientist. However, I would really like to emphasize another crucial, less technical, point: Hubert is also a superb ambassador of science. His volcanic energy, his engaging and friendly empathy, and his untamed vitality are a priceless gift to the entire community. The young generation has been inspired by his passion for science and this is a rare quality and although intangible has huge tangible effects. This human impact factor should be an example for the whole community.
Therefore, it is my absolute pleasure and great privilege to award the 2020 Dooge medal to Professor Hubert Savenije "For his brilliant contributions to the advancement of knowledge in surface hydrology processes and methods across five continents".
Response by Hubert Savenije
My second cousin Frans de Waal in his recently published book "Different, Gender through the Eyes of a Primatologist" compares gender aspects of primates with humans, who themselves are primates as well. One important aspect in the book is how gender relates to hierarchy. Hierarchy is omnipresent in the animal and human world: in politics, society, business, and in our community of academics. In his early book "Chimpanzee Politics", Frans de Waal presented the "alpha male"; the person who leads the community of Chimpanzees and earned this position by dominating other men. Over the years, the term "alpha male" became very popular in management literature and in politics. It is generally associated with an aggressive bully. In his latest book, De Waal classifies this as a misinterpretation of what an "alpha male" is. Although we may all know iconic examples of bullying alpha men, they are the exception rather than the rule. A successful alpha male has empathy, cares for the weaker in the group, and is more willing to share resources with others; more so than other men.
How is this relevant to my receiving the prestigious Dooge medal of the International Association of Hydrological Sciences? Have I received this award by fighting my peers for dominance? Or by intimidating my students? Or by misuse of authority? No, at least I don't think so myself. My main -- and mostly unconscious -- approach has been one of sharing: freely sharing ideas, and even resources, with peers. In addition, I freely shared data and published as much as possible in open access. In short, I stimulated and supported the concept of Open Science.
I have always considered freely sharing of ideas to be the best approach for gaining insights and for furthering my knowledge and understanding. In the process, I have made many professional friends, without whom I would never have achieved the professional level that earned me this award. I cannot mention all the people to whom I owe considerably, but I want to thank particularly: Murugesu Sivapalan, Günter Blöschl, Alberto Montanari, Erwin Zehe, Axel Kleidon, Nick van de Giesen, Pieter van der Zaag, and the late Arjen Hoekstra. And, of course, I owe immensely to my many students from all over the world, who have always been a source of inspiration and ideas.
And last but not least, I want to thank my dear wife Helene who has always supported me in my adventures.