J.A. Rodier
Prix international d'hydrologie 1985
---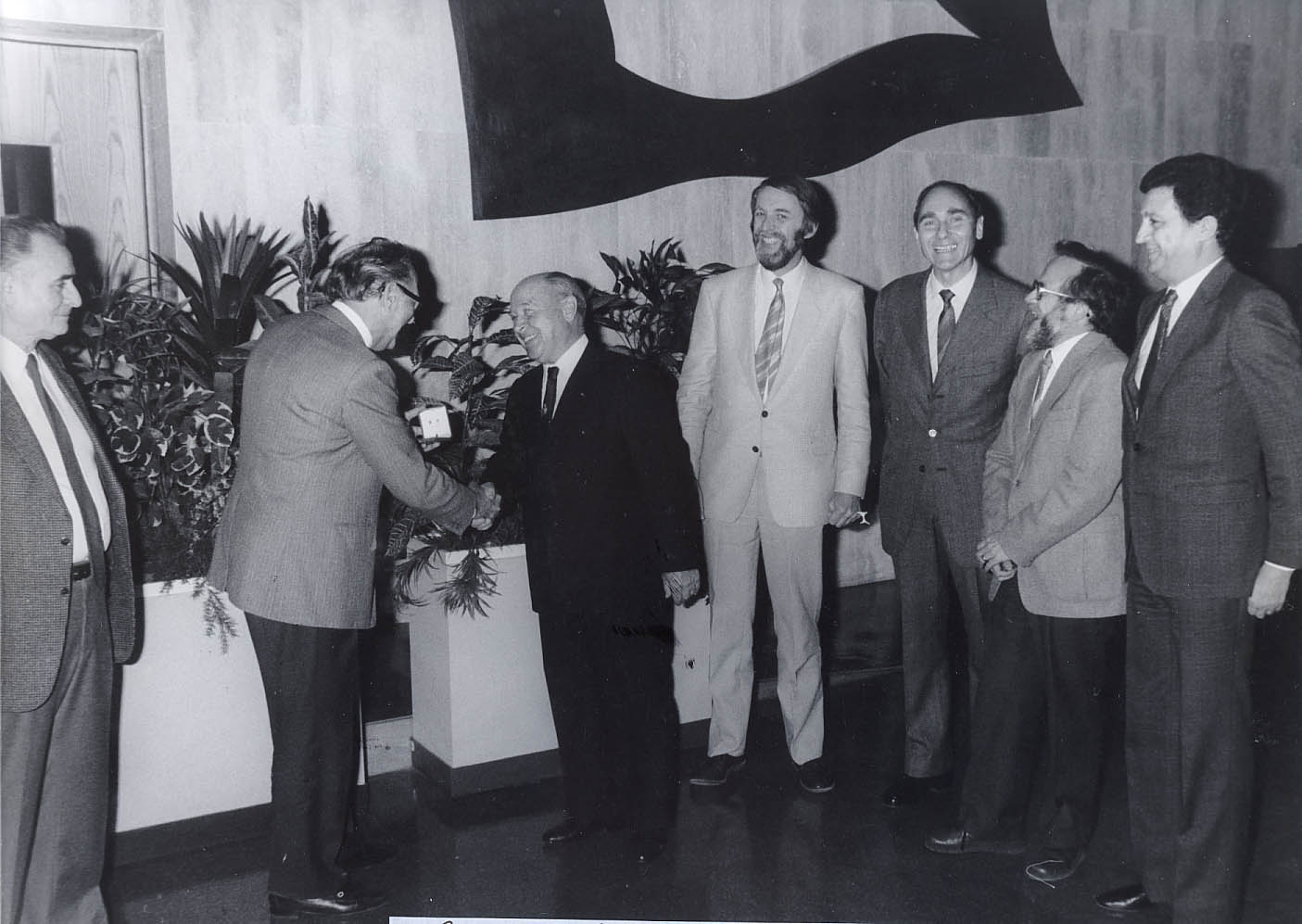 De gauche à droite, M. Roche, G. Kovacs, J. Rodier, J. Rodda, S. Dumitrescu, A. Askew et H. Zébidi
---
Jean Rodier (1914-1994)
Dr. Jean RODIER died on 1 May 1994, in his 80th year. He spent 52 years of his life in hydrology, continuing to write until disease prevailed, articles and reports to convey "his memory", the fruit of experience and knowledge of the unique field and served by a prodigious memory and dazzling intuitions.
After brilliant studies at the Ecole Centrale des Arts et Manufactures in Paris, he made his first hydrological studies in France in the High Pyrenees and the Cantal. Appointed chief engineer at Electricité de France (EDF) in April 1947, the General Inspectorate for the French Union and overseas, allowing it to start an inventory of water resources and the study of river systems in West and Central Africa.
In 1949, he was appointed head of what later became the Hydrological Service of ORSTOM (Office of Scientific and Technical Research Overseas, former name) and he kept that position until his retirement in 1977 whilst remaining Head of Divison Prospecting Hydrology and Scientific Advisor with EDF.
He chaired the development of hydrological networks in 17 francophone countries constantly focusing on a better understanding of the hydrological characteristics of tropical areas studied and extreme events (floods in particular).
His activities in international organizations were important to the Commission of Hydrology (CHy of WMO) and in many UNESCO programs, the DHI as the IHP. However it is the IAHS where he played the most significant role, being elected President of the Association for four years at the General Assembly of IUGG in Moscow in 1971, then Secretary General from 1975 to 1979. Subsequently, he kept extremely active for nearly 15 years as associate Editor for the Journal of the Association publications and conference proceedings.
His outstanding contribution to the science of water earned him in 1985, the great International Hydrology Prize awarded by the three organizations to crown his entire career.
Dr. Rodier was the father of African tropical hydrology and representative of an era of "pioneer" hydrology.
---
Jean RODIER (1914-1994)
Le Dr Jean RODIER est décédé le 1er mai 1994, dans sa 80ème année. Il aura consacré 52 ans de sa vie à l'hydrologie, continuant de rédiger jusqu'à ce que la maladie l'emporte, articles et rapports pour transmettre "sa mémoire", fruit d'une expérience et d'une connaissance du terrain uniques et servie par une mémoire prodigieuse et des intuitions fulgurantes.
Après de brillantes études à l'Ecole Centrale des Arts et Manufactures de Paris, il réalise ses premières études hydrologiques en France dans les Hautes Pyrénées et le Cantal. Nommé ingénieur en chef à l'Electricité de France (EDF), il sera affecté en avril 1947 à l'Inspection Générale pour l'Union Française et l'Etranger d'EDF ce qui lui permet de commencer l'inventaire des ressources en eau et l'étude des régimes des cours d'eau de l'Afrique de l'Ouest et Centrale.
En 1949, il est nommé responsable de ce qui deviendra plus tard le Service Hydrologique de l'ORSTOm (Office de la Recherche Scientifique et Technique Outre Mer, ancienne appellation) et il gardera ces fonctions jusqu'à son départ à la retraite en 1977 en restant en même temps, auprès de l'EDF, Chef de la Divison Prospection Hydrologie puis Conseiller Scientifique.
Il présidera ainsi au développement des réseaux hydrologiques de 17 pays francophones et à l'installation de plus de 200 bassins versants de recherche, en s'attachant constamment à une meilleure connaissance des caractéristiques hydrologiques des zones tropicales étudiées et des phénomènes extrêmes (crues en particulier).
Ses activités dans les organismes internationaux seront très tôt, importantes, à la Commission d'Hydrologie (CHy de l'OMM) comme dans de nombreux programmes de l'UNESCO, à la DHI comme au PHI. C'est toutefois à l'AISH qu'il jouera le rôle le plus marquant, en étant élu Président de l'Association pour 4 ans lors de l'Assemblée générale de l'UGGI à Moscou en 1971, puis Secrétaire Général de 1975 à 1979. Par la suite, il gardera un rôle extrêmement actif pendant près de 15 ans, comme Editeur Associé, pour le Journal de l'Association et les publications des actes de colloques.
Sa contribution éminente aux Sciences de l'Eau lui vaudra en 1985, le grand Prix International d'Hydrologie décerné par ces trois organismes pour couronner l'ensemble de sa carrière.
Avec le Dr RODIER s'éteint le père de l'hydrologie tropicale africaine et le représentant de toute une époque "Pionnière" de l'hydrologie.