A. Ross
THE 2022 TISON AWARD GOES TO ALEXANDER ROSS (USA)
Alexander Ross & Heejun Chang (2020) Socio-hydrology with hydrosocial theory: two sides of the same coin?, Hydrological Sciences Journal, 65:9, 1443-1457, DOI:10.1080/02626667.2020.1761023
Citation from Attilio Castellarin, Editor-in-Chief of Hydrological Sciences Journal on behalf of the Jury of the 2022 Tison Award.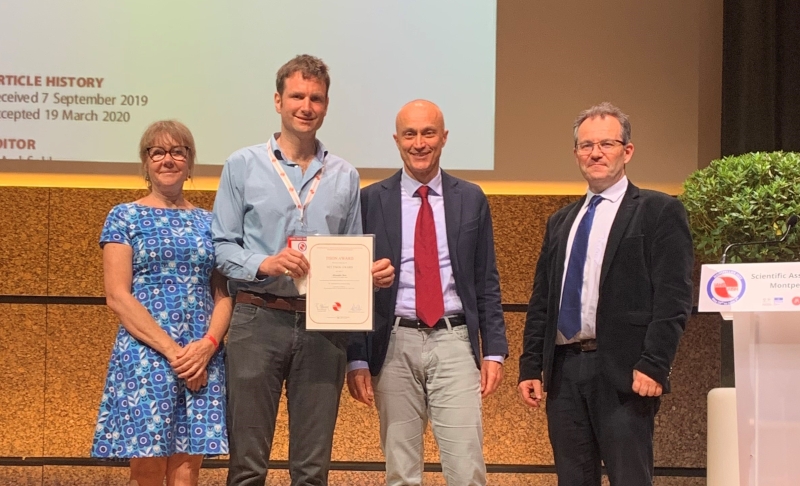 Left to right: Berit Arheimer (IAHS President), Alexander Ross (on behalf of the authors), Attilio Castellarin (Editor-in-Chief HSJ) and Christophe Cudennec (IAHS Secretary General)
The Tison Award for the year 2022 goes to Assistant Professor Alexander Ross of Portland State University, USA, for the paper titled, "SOCIO-HYDROLOGY WITH HYDROSOCIAL THEORY: TWO SIDES OF THE SAME COIN?" published in Hydrological Sciences Journal in 2020. The paper was co-authored by Professor Heejun Chang (Portland State University, USA) who is not eligible for the Tison Award, age-wise.
This paper provides a comprehensive review and important synthesis of socio-hydrology and hydrosocial research. While the two research paths emerged at different times and from different subfields, Ross and Chang show that they share important common goals in understanding coupled human-water systems, and in integrating multiple stakeholders into planning and policy-making. For this reason, the jury members believe the paper has the potential to make a substantial and broad contribution to hydrologic sciences, particularly in demonstrating the importance of advancing both socio-hydrology and hydrosocial research.
Although there was strong competition amongst the 19 nominated papers in the 2022 Tison Award process, the awarded paper received strong support and emerged as the clear winner. To date, there have already been over 3,400 views of the paper and 16 citations in the literature.
Congratulating the authors, I wish for Dr. Ross further scientific success and hope that the Tison Award received from the International Association of Hydrological Sciencxes will serve as a springboard to achieve new heights in their scientific career.